1,000,000 GALLONS OF FUN!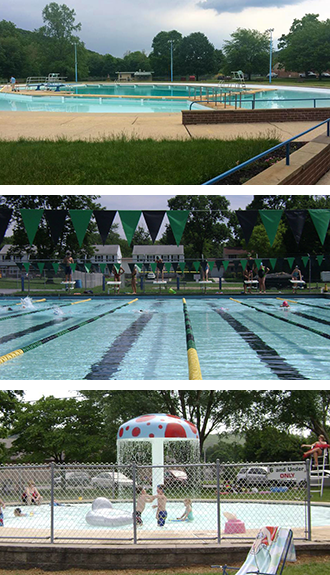 Antietam Pool is the home of the
LARGEST POOL IN BERKS COUNTY,
one of three pools on the grounds!  In addition to our historic Main Pool, Antietam has an Olympic Lap Pool and a Baby Pool with a Mushroom Fountain.
The expansive grounds contain plenty of shade and sun, an exceptional concession stand, a basketball court, a large pavilion available for rental by members, and a children's playground.
Antietam Pool features rest room facilities with changing areas, and a separate family bathroom for the little ones.
Antietam Pool employs seasonal managerial and maintenance staff, in addition to approximately 40 lifeguards.
>> Click here for contact information and directions.
OFFICE STAFF
Office Manager – Sharon High
Pool Managers – Barb Cronan and Jen Gundersen
BOARD OF DIRECTORS
The directors of the AVRCC board represent our 4 governing municipalities as follows:
Mount Penn – Tuan Duong
Exeter – Rick Kosak
Lower Alsace – Lynn Wilson, Board President
St. Lawrence – Tracy Murphy
At large members – Matt Lubas, Kara Freese, Jamie Yousaitis, Chuck Waterbury
MEETINGS
The AVRCC Board of Directors meets at 7 PM on the second Monday of the month in the AVRCC rec center.
Members are invited to attend the general membership meeting on Monday, October 9, 2023 at 7 PM The meeting agenda includes annual reports, election of directors and your suggestions.
STUDENT ART
The Antietam High School Art Department, in partnership with the AVRCC and the Antietam Valley Community Partnership (AVCP) has enhanced our facilities with four student-designed murals. *  The Antietam Pool logo at the top of this page and several photos on this site are examples of their artwork.

* This project was funded in part through grants from the Berks Arts Council, the Wyomissing Foundation, and the Pennsylvania Council on the arts.