2023 SEASON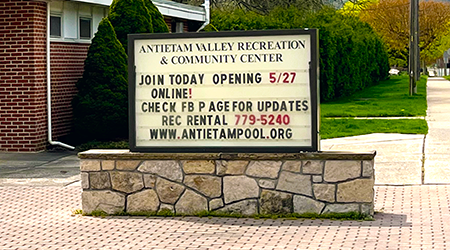 Join Antietam Pool!
Any season pass holder who lives in Mt. Penn Borough, Lower Alsace Township, Exeter Township or St. Lawrence  Borough, may vote at the general membership meeting in October or serve on the AVRCC board of directors.[clearboth]
Opening day for the 2023 season is Saturday, May 27.
Each member must present their current AVRCC photo ID for entrance to the pool. Access to the pool can be denied without proper membership identification.
Hours for the main pool are 12:00 noon – 7:45 p.m., weather permitting. Hours for the Olympic Pool will be posted.
>> View the detailed AVRCC calendar here.
PHOTO IDS
All members age 4 and over will receive photo ID's as part of their membership fee.
SWIMMERS up through age 17 will be provided with a wristband each time they enter the pool gate that denotes they may swim both in the shallow and the deep areas of the main pool.  No youth without a wristband are allowed to swim in the main pool deep
RULES & REGULATIONS
Please read the following rules before joining AVRCC to protect your membership and membership dues.
Safety rules will be posted at AVRCC and enforced by AVRCC staff.
>> View the 2023 AVRCC Rules & Regulations
SWIM LESSONS
Both group and private swim lessons will be offered throughout the summer. All swim instructors are trained in water safety instruction. Check the office for dates and times. In case of inclement weather, call the office at 610-779-5240. Payment must be made at the time of registration.
ANNUAL MEMBERSHIP MEETING
Members and prospective members are invited to attend the general membership meeting, Monday, October 9, 2023 at 7pm in the AVRCC rec center.
The meeting agenda includes annual reports, election of directors and your suggestions.